Crescat has been recognized for high achievement with the following awards

:
The #1 performing Macro Hedge Fund for 2018 by BarclayHedge.
Along with Crescat Long/Short Fund, one of Bloomberg's top performing hedge funds for 2018.
Winner of the 2015 Global Macro Fund of the Year – HedgeFund Intelligence Absolute Return Awards (under $500m)
Named a Top 10 performing macro hedge fund by both Preqin and BarclayHedge for 2014.

Macro 3-year compounded annual return top 10 winner for 2015 and 2016.

Named a Top 10 Global Macro Hedge Fund by Bloomberg for the five years ended 2010 as well as the year ended 2010.

This five-year period encompassed the Global Financial Crisis and the worst stock market crash since 1929.
Over this five-year period, Crescat delivered a 27.2% net average annualized return and a Sharpe Ratio exceeding 1.

A 49-time performance award winner from BarclayHedge as shown below.
The BarclayHedge Databases are used to determine the winners that are listed below. All winners are nominated based on quantitative data provided by BarclayHedge for the various award categories. All data is collected and analyzed by BarclayHedge. Barclay's monthly Awards rank top performance of funds and CTAs. Barclay's yearly Awards rank top performance of funds and CTAs.
To be considered for the Hedge Fund Intelligence Absolute Return Award, a manager must submit performance to the HFM database. Selection as an award winner is based on the criteria and process set forth below by the organizer and may not reflect the opinions of all investors and industry experts. 
Prequin performance awards are selected from data taken from Hedge Fund Analyst online sevices. The 2014 top performing funds were based on a ranking by net returns over the periods 2014 and 2012-2014.
Bloomberg performance rankings are selected by Bloomberg staff from data provided by hedge funds that report to the Bloomberg database.
There are no fees charged by the organizers for a manager to participate in the selection process for any of the above awards.
Past consideration for any award is not indicative of future qualifications. 
With a 19-year audited track record since inception, Crescat's Large Cap Composite ranks in the top 4% or better among the universe of 126 Large Cap Value Managers according to EVestment Analytics across the following and risk and return categories based on net returns (rankings as of 6-30-2018):
Annualized Alpha: Top 2%: (6.3%)
Gain/Loss Ratio: Top 1% (1.2)
Skewness Top 2%: (-.01)
Treynor Ratio Top 3%: (11.1%)
Annualized Returns Top 4%: (10.6%)
Analytics based on clients making use of eVestment platform.
Net Annualized Alpha vs. Gain/Loss Ratio Inception January 1999 through September 2019
(Universe: Large Cap Value – 124 managers)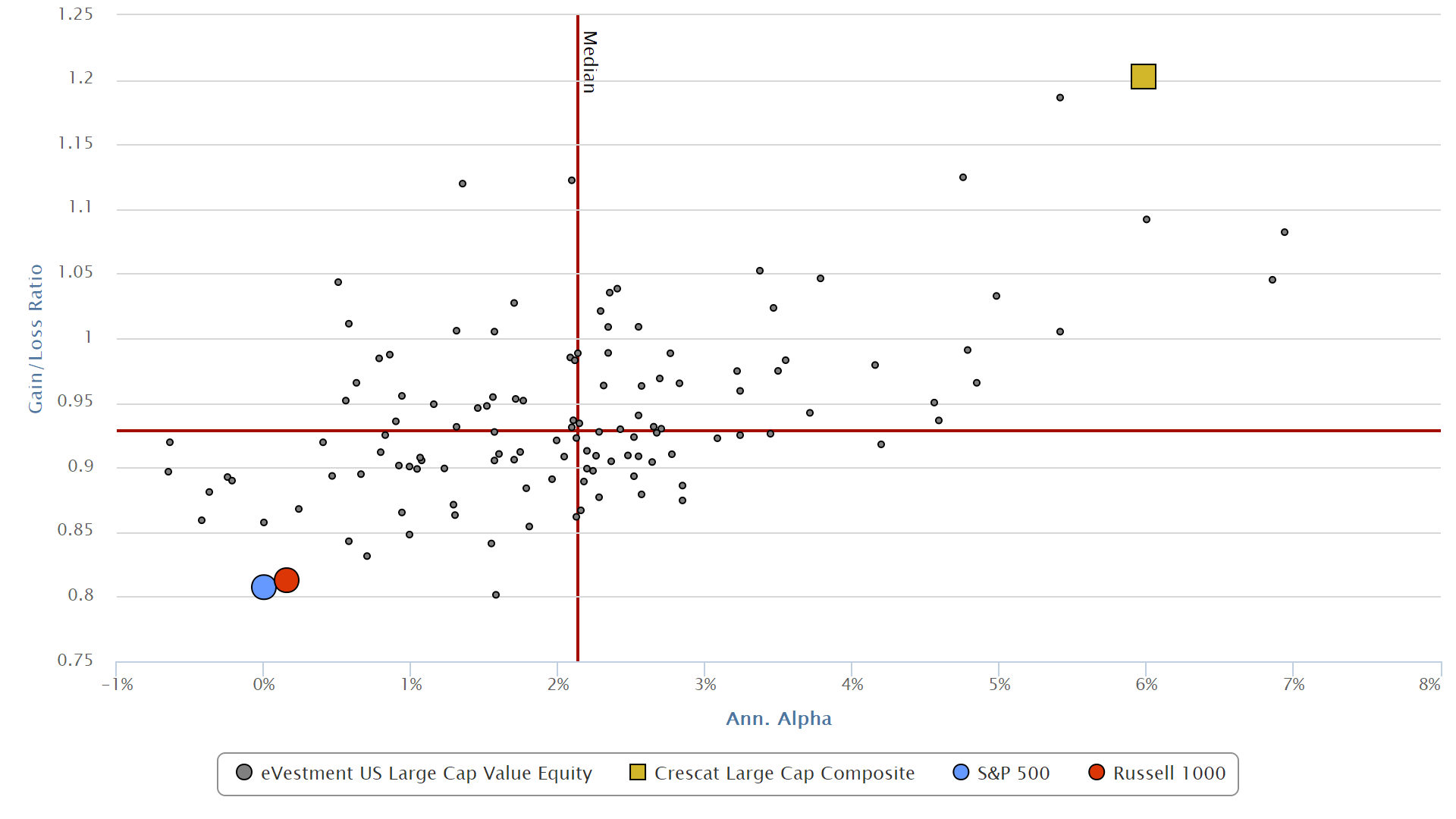 Latest Rankings
No award should be construed by clients or prospective clients as a guarantee that they will experience a certain level of results if Crescat is engaged nor should it be construed as a current or past endorsement of Crescat by any of its clients.