---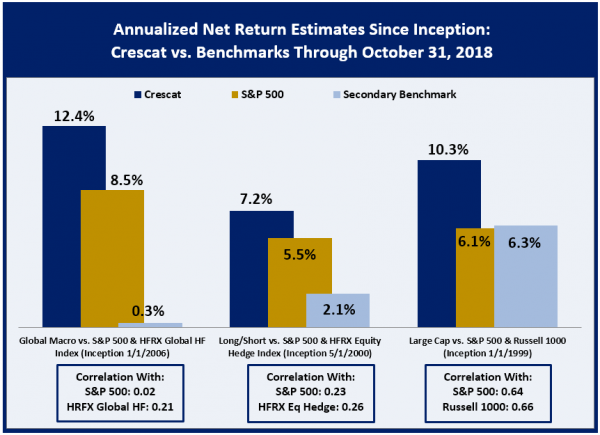 Global Macro Hedge Fund
Inflation. Deflation. Bubbles and busts. Our Global Macro Hedge Fund is all about capitalizing on big-picture trends and imbalances while hedging risk. Our global themes are enhanced by expert fundamental analysis and stock picking.
Long/Short Hedge Fund
The Tech Bust. The Global Financial Crisis. The Crescat Long/Short Hedge Fund strongly outperformed during two of the worst bear markets in history. Investors in the Long/Short Fund value the fund's strong risk-adjusted returns, achieved with a focus on long and short equities.
Large Cap Composite
Time tested. Proven results. Crescat Large Cap is a separately managed account strategy for discerning investors who appreciate the value of high-quality companies with strong free cash flow and professional, active management.
Only accredited investors and qualified clients will be admitted as limited partners to a Crescat fund. For natural persons, investors must meet SEC requirements including minimum annual income or net worth thresholds. Crescat funds are being offered in reliance on an exemption from the registration requirements of the Securities Act of 1933 and are not required to comply with specific disclosure requirements that apply to registration under the Securities Act. The SEC has not passed upon the merits of or given its approval to the Crescat funds, the terms of the offering, or the accuracy or completeness of any offering materials. A registration statement has not been filed for any Crescat fund with the SEC. Limited partner interests in the Crescat funds are subject to legal restrictions on transfer and resale. Investors should not assume they will be able to resell their securities. Investing in securities involves risk. Investors should be able to bear the loss of their investment. Investments in the Crescat funds are not subject to the protections of the Investment Company Act of 1940. Performance data represents past performance, and past performance does not guarantee future results. Performance data is subject to revision following each monthly reconciliation and annual audit. Current performance may be lower or higher than the performance data presented. Crescat is not required by law to follow any standard methodology when calculating and representing performance data. The performance of Crescat funds may not be directly comparable to the performance of other private or registered funds. Investors may obtain the most current performance data and private offering memorandum for a Crescat fund by contacting Linda Smith at (303) 271-9997 or by sending a request via email to info@crescat.net. See the private offering memorandum for each Crescat fund for complete information and risk factors.