Crescat Global Macro Fund and Crescat Long/Short fund delivered strong returns for both December and full year 2018 in a difficult market. Based on Bloomberg reporting, Crescat had the number 1 and 2 performing US hedge funds in December and the number 1 and 3 performing US hedge funds for 2018.
We are pleased to announce the official performance for our three strategies in 2018: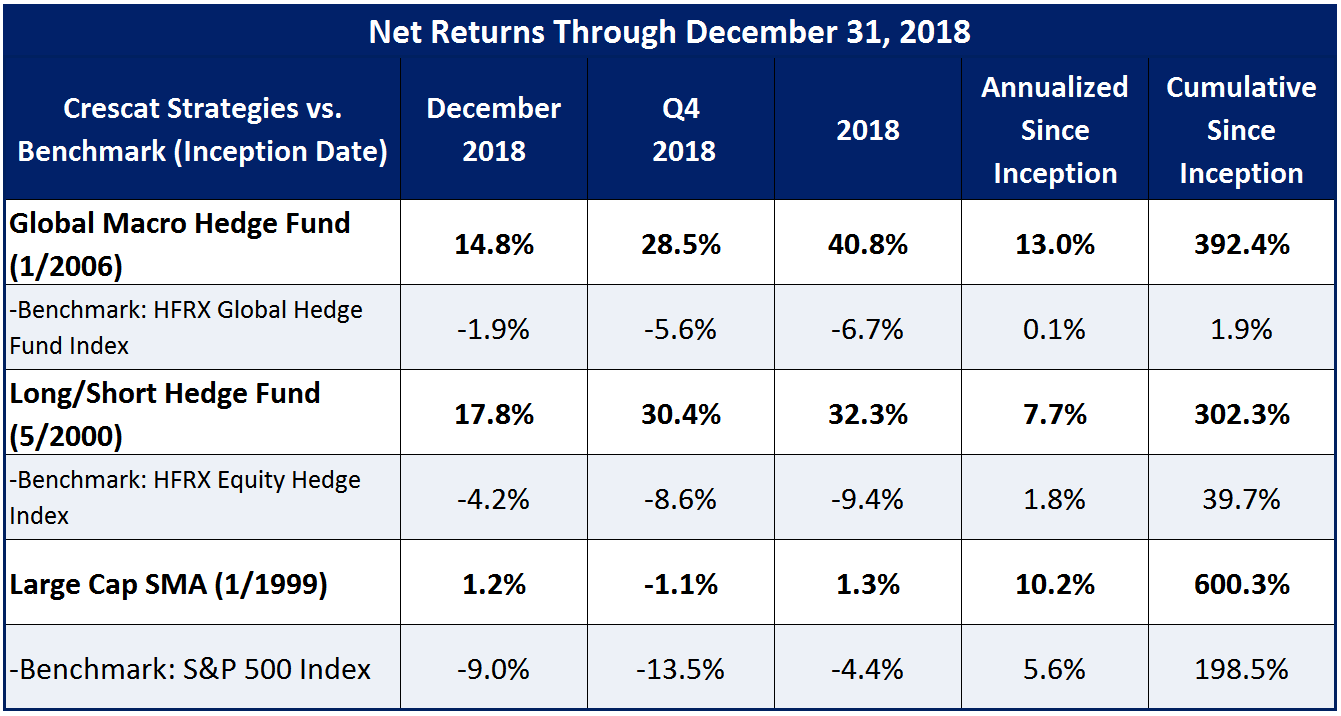 We see tremendous continued opportunity to capitalize on Crescat's global macro themes and investment process in 2019. In our analysis, China remains the largest credit bubble the world has ever seen. We strongly believe it is now in the process of bursting and will lead to a major currency devaluation. At the same time, the US stock market has only just started to correct from truly historic valuations late in an extended business cycle. We remain committed to exploiting these themes that we believe have much further to play out to help our clients grow and protect capital in this challenging macro environment.
We see the recent run-up in the US stock market as nothing more than a bear market rally as supported by our 16-factor US equity macro model. Given our equity net short position in our hedge funds, it could be an opportunity for new and existing clients to add to Crescat's hedge funds at the end of the month on a pullback. We are confident that the US stock market will be turning back down soon, possibly before the end of the month.
Please find the 2018 profit attribution by theme for the Crescat Global Macro Fund below:
Crescat is a global macro asset management firm. We develop tactical investment themes based on proprietary value-driven models. Our mission is to grow and protect wealth by capitalizing on the most compelling macro themes of our time. We aim for high absolute and risk-adjusted returns over the long term with low correlation to benchmarks.
Crescat's firmwide global macro investment process applies to three Crescat strategies that have delivered strong long-term outperformance through multiple business cycles: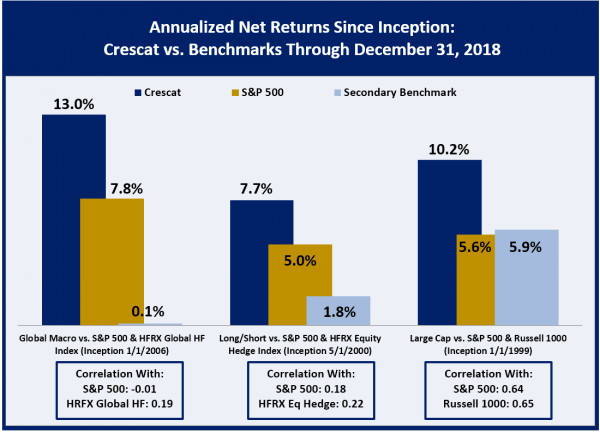 We invite you to visit our website for more information about our investment process, investment outlook, and how to become a client.
Sincerely,
Kevin C. Smith, CFA
Chief Investment Officer
Tavi Costa
Global Macro Analyst
For more Information please contact Linda Smith at lsmith@crescat.net or (303) 228-7371
© 2018 Crescat Capital LLC
Case studies are included for informational purposes only and are provided as a general overview of our general investment process, and not as indicative of any investment experience. There is no guarantee that the case studies discussed here are completely representative of our strategies or of the entirety of our investments, and we reserve the right to use or modify some or all of the methodologies mentioned herein. Only accredited investors and qualified clients will be admitted as limited partners to a Crescat fund. For natural persons, investors must meet SEC requirements including minimum annual income or net worth thresholds. Crescat funds are being offered in reliance on an exemption from the registration requirements of the Securities Act of 1933 and are not required to comply with specific disclosure requirements that apply to registration under the Securities Act. The SEC has not passed upon the merits of or given its approval to the Crescat funds, the terms of the offering, or the accuracy or completeness of any offering materials. A registration statement has not been filed for any Crescat fund with the SEC. Limited partner interests in the Crescat funds are subject to legal restrictions on transfer and resale. Investors should not assume they will be able to resell their securities. Investing in securities involves risk. Investors should be able to bear the loss of their investment. Investments in the Crescat funds are not subject to the protections of the Investment Company Act of 1940. Performance data represents past performance, and past performance does not guarantee future results. Performance data is subject to revision following each monthly reconciliation and annual audit. Current performance may be lower or higher than the performance data presented. Crescat is not required by law to follow any standard methodology when calculating and representing performance data. The performance of Crescat funds may not be directly comparable to the performance of other private or registered funds. Investors may obtain the most current performance data and private offering memorandum for a Crescat fund by contacting Linda Smith at (303) 271-9997 or by sending a request via email to lsmith@crescat.net. See the private offering memorandum for each Crescat fund for complete information and risk factors.