Time tested. Proven results. Crescat Large Cap is a separately managed account strategy for discerning investors who appreciate the value of high-quality companies with strong free cash flow and professional, active management.
---
Net Returns through 5/31/2017

---
Risk-Adjusted Return Measures Since Inception

---
Growth of Initial $1,000,000

---
Peer Group Analysis from eVestment, inception through December, 2015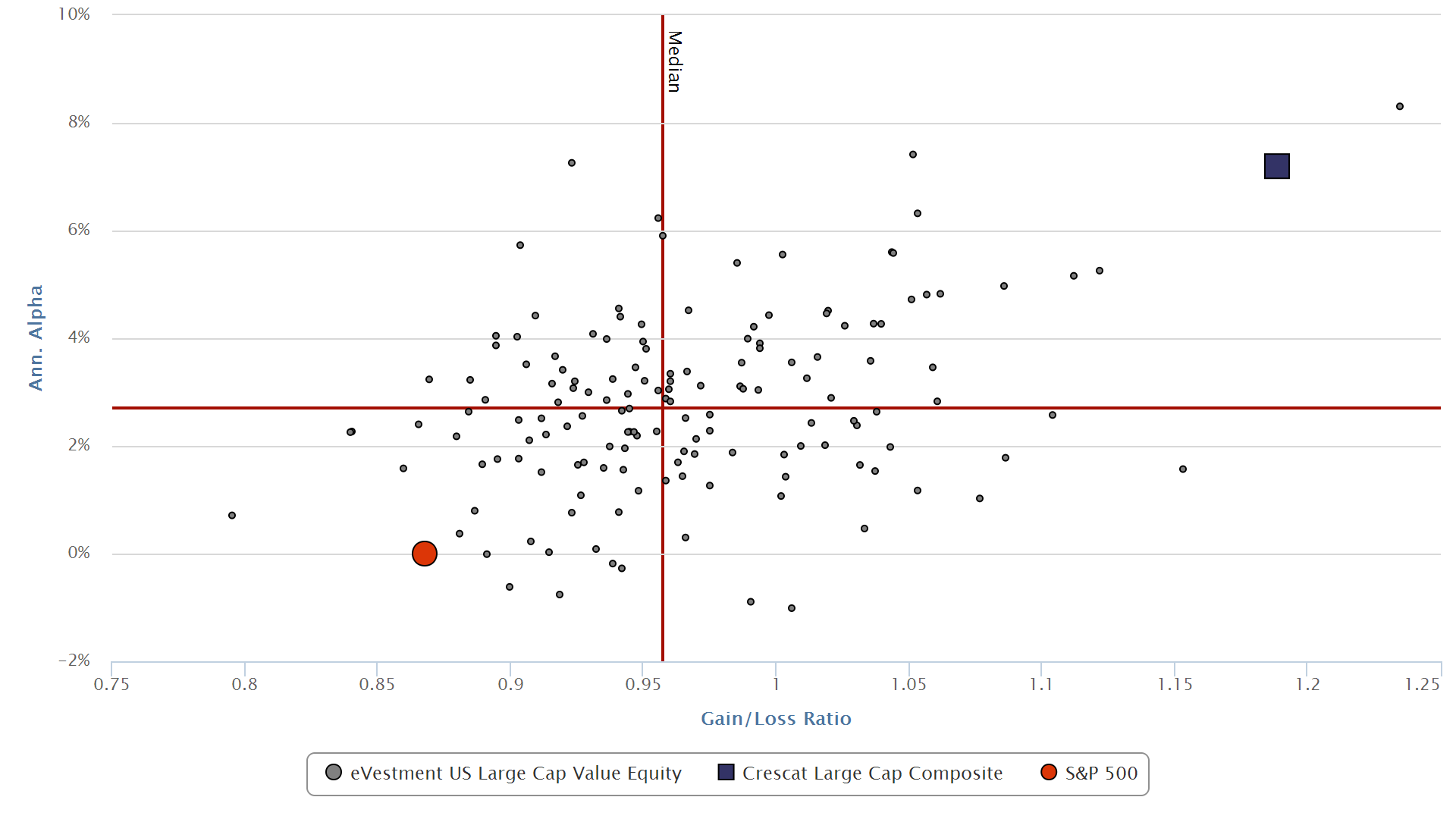 ---
Returns, Risk-Adjusted Performance Measures, and Growth of $1,000,000, and Peer Group Analysis are presented net of management fees.
---
Crescat Capital LLC manages hedge funds and separate accounts through its wholly owned subsidiary, Crescat Portfolio Management LLC, an investment adviser registered with the U.S. Securities and Exchange Commission. Registration as an investment adviser does not imply a certain level of skill or training. Crescat Portfolio Management claims compliance with Global Investment Performance Standards (GIPS®). Prospective clients can obtain a GIPS-compliant presentation and the firm's list of composite descriptions by contacting Crescat by phone at (303) 271-9997, or by visiting our website at www.crescat.net/resources/due-diligence/. Returns are presented net of management fees. The currency used to express performance is U.S. dollars. Strategy and Composite Description The Crescat Large Cap Composite includes all accounts that are managed according to the firm's large-cap strategy over which the manager has full discretion. The Crescat Large Cap Strategy is a long-only, global, large-cap equity strategy with a U.S.-exchange-listed focus. The manager follows a multi-disciplinary, value-based investment process to trading and investing in large-cap equity securities. The portfolio is typically comprised of 35 to 40 securities. The portfolio includes predominantly individual equities from among the 1000 largest and most-liquid global companies that trade on a U.S. exchange. The manager may also take positions in large-cap-oriented exchange-traded funds, such as sector or country-focused ETFs that trade on U.S. exchange. The strategy blends top-down, macroeconomic analysis with bottom-up, fundamental valuation. The investment team performs macroeconomic analysis including valuation of currencies, commodities, industries, and markets in order to develop global macroeconomic themes that the manager expresses via long-only equity positions in this strategy. The strategy does not employ leverage. The strategy's bottom-up approach to equity valuation starts with a proprietary, fundamental, quantitative model that was originally built in 1997 by the firm's Chief Investment Officer, Kevin C. Smith, CFA. The model applies an innovative and robust discounted-free-cash-flow methodology to produce daily valuations of 2,000 of the most-liquid, large- and mid-cap stocks. The fundamental quant model has been consistently refined and applied to managing this strategy since its inception. The investment team performs additional qualitative analysis to validate buy and sell signals generated by the model and to integrate model-driven ideas with the firm's macro themes. The goal of the strategy is to generate high risk-adjusted returns that are in the top 10% of all U.S and global large-cap equity managers over the long term as measured by Alpha, Sortino Ratio, Omega Ratio, and Gain-Loss Ratio. Benchmarks The S&P 500 Index is perhaps the most commonly followed stock market index. It is considered representative of the U.S. stock market at large. It is a market-cap-weighted index of the 500 largest and most liquid companies listed on the NYSE and NASDAQ exchanges. While the companies are U.S. based, most of them have broad global operations. Therefore, the index is representative of the broad global economy. It is a suitable benchmark for the Crescat Large Cap Composite Composite, because it has also traded and invested extensively in large, highly-liquid global equities through U.S.-listed securities since inception. The Russell 1000 is a market-cap weighted index of the 1,000 largest companies in US equity markets. It represents a broad scope of companies across all sectors of the economy. It is a commonly followed index among institutions. This index contains many of the same securities as the S&P 500 but is broader and includes some mid-cap companies. It is a suitable benchmark for Crescat Large Cap Composite which has predominantly held and traded similar securities since inception.