November 14, 2020
Dear Investors:
Crescat's three hedge funds surged in October to maintain their year-to-date performance leadership within the universe of managers. The S&P 500 declined 2.4% in the same month as US election day neared. All five of the firm's investment strategies substantially outperformed their benchmarks net of fees in 2020 and since inception. Collectively, the Crescat strategies encompass three business cycles going back to 1999, including the same number of recessions.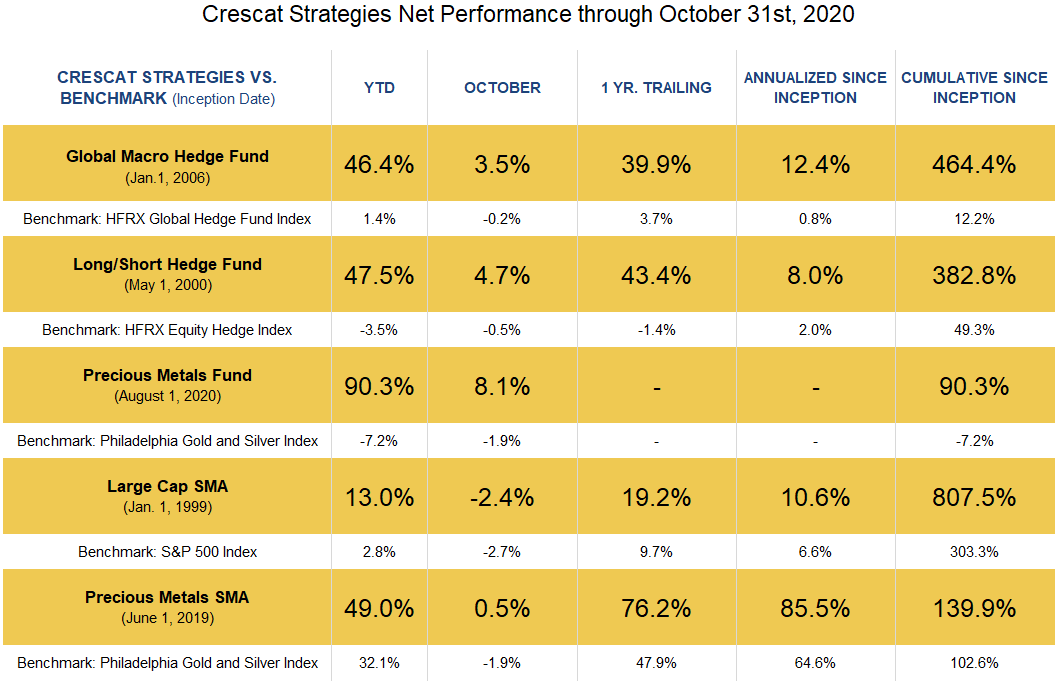 Crescat is a tactically oriented global macro asset management firm. Our mission is to grow and protect client wealth over the long term. Our goal is industry leading absolute and risk-adjusted returns over complete business cycles. The firm's edge is its ability to develop and profit from investment themes that arise from our proprietary, value-driven equity and macro models. At Crescat, it is not just about getting the macro right. It is also about getting the security selection correct within our thematic buckets. We believe this is what differentiates Crescat substantially from other macro managers in our ability to generate high risk-adjusted returns over time.
As value-oriented investors with an exclusive like-minded client base, we are confident that the intrinsic worth of our portfolios is always substantially greater than their market price at any point in time. Conviction in our approach and alignment with our investors gives Crescat fortitude to embrace a moderate amount of risk to pursue strong benchmark-beating returns and unlock the true value presented by our models and themes.
Today, Crescat is a strong proponent of the hedged return stream that can be delivered by combining two key thematic buckets: buying undervalued precious metals mining companies while shorting a portfolio of excessively over-valued equities across multiple industries. These two themes are prominent in both our global macro and long/short funds today and have been working phenomenally well this year. In March, the two Crescat funds capitalized on the short side of the portfolio to deliver strong absolute returns while many of our peers faltered. Since that time, gold and silver mining stocks have been the leading industry group in the market to drive all Crescat's strategies to new high-water marks. Through both the downturn and the runup in stocks at large this year, the combination of these two themes has propelled Crescat's global macro and long/short funds to the top of the Bloomberg Brief table for monthly and year to date performance. Our activist precious metals fund that we launched in August could arguably be at the top of this table, up 90.3%, but it only has a three month history instead of a full 10-month year to date for comparison purposes.
With global debt to GDP as stretched as it has ever been, sovereign bonds, investment grade credit, and junk bonds collectively are the most over-valued in history in tandem with stocks.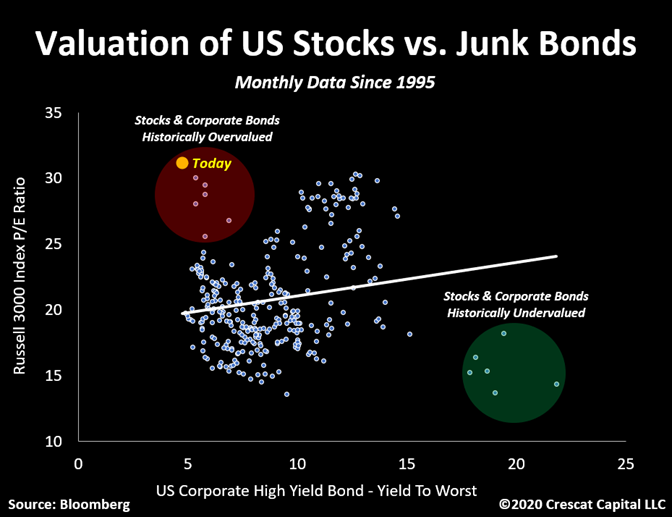 The Federal Reserve and fiscal powers may appear for now to have come to the rescue during the Covid-19 recession, but they have only upped the ante on the imbalances and risks they have allowed to build in the first place. In this context, low interest rates equate to anything but low risk. From a valuation standpoint, in our analysis, the risks presented by US financial asset bubbles today are the highest they have ever been.
For long-oriented investors, the good news is that it is perhaps one of the greatest setups ever for precious metals, the forgotten asset class of the last decade. Gold is the one cheap asset that truly benefits from artificially manufactured low interest rates. We expect gold will increasingly become the new high demand asset for discerning allocators given its low correlation, undervaluation, and high absolute return potential compared to overvalued and overcrowded stocks and bonds at large. "Buy gold and sell stocks" is Crescat's macro mantra today.
In an environment where many believe "the Fed has got your back", it is not surprising to frequently hear that "valuation doesn't matter" anymore. Years of easy monetary policy have led to the popularity of strategies like "risk parity" where bloated hedge funds and institutional investors crowd into leveraged long bond portfolios alongside record over-valued stock portfolios. We also get aberrations like short volatility strategies designed to manufacture yield in an ultra-low interest rate and perceived ever-lower risk environment. Such strategies are popular for the apparent steady return steams. Never mind their highly probable, ultimately inevitable, asymmetric total destruction like we caught a brief glimpse of in early 2018 during Volmageddon. Beyond index funds, another concern is hedge fund whales and Robinhood traders alike crowding into an over-abundance of large cap momentum disruptor stocks, largely in the tech sector, at ungodly multiples of sales, all disrupting each other's profit margins and future revenue growth, most without any clear sustainable competitive advantage.
Here is the bottom line. Easy money creates financial asset bubbles. Bubbles burst. Such is the business cycle. Manias do not last. They lead to financial crises. There is one almost certainly in the making today. When there is very little value to be found on the long side of the market, there is much opportunity on the short side. We are determined to capitalize on it.
Please reach out to a Client Service Specialist, Marek Iwahashi at miwahashi@crescat.net, or Cassie Fischer at cfischer@crescat.net, with questions or investment inquiries. We would like to thank you for your continued trust in Crescat Capital at this time and are looking forward to finishing out the year strong.
Sincerely,
Crescat Capital LLC
Kevin C. Smith, CFA
Founder & CIO
Tavi Costa
Partner & Portfolio Manager
For more information including how to invest, please contact a client service specialist:
Marek Iwahashi
303-271-9997
or
Cassie Fischer
303-350-4000
Linda Carleu Smith, CPA
Partner & COO
(303) 228-7371
© 2020 Crescat Capital LLC
Important Disclosures
Performance data represents past performance, and past performance does not guarantee future results. An individual investor's results may vary due to the timing of capital transactions. Performance for all strategies is expressed in U.S. dollars. Cash returns are included in the total account and are not detailed separately. Investment results shown are for taxable and tax-exempt clients and include the reinvestment of dividends, interest, capital gains, and other earnings. Any possible tax liabilities incurred by the taxable accounts have not been reflected in the net performance. Performance is compared to an index, however, the volatility of an index varies greatly and investments cannot be made directly in an index. Market conditions vary from year to year and can result in a decline in market value due to material market or economic conditions. There should be no expectation that any strategy will be profitable or provide a specified return. Case studies are included for informational purposes only and are provided as a general overview of our general investment process, and not as indicative of any investment experience. There is no guarantee that the case studies discussed here are completely representative of our strategies or of the entirety of our investments, and we reserve the right to use or modify some or all of the methodologies mentioned herein.
Separately Managed Account (SMA) disclosures: The Crescat Large Cap Composite and Crescat Precious Metals Composite include all accounts that are managed according to those respective strategies over which the manager has full discretion. SMA composite performance results are time weighted net of all investment management fees and trading costs including commissions and non-recoverable withholding taxes. Investment management fees are described in Crescat's Form ADV 2A. The manager for the Crescat Large Cap strategy invests predominatly in equities of the top 1,000 U.S. listed stocks weighted by market capitalization.  The manager for the Crescat Precious Metals strategy invests predominantly in a global all-cap universe of precious metals mining stocks.
Hedge Fund disclosures: Only accredited investors and qualified clients will be admitted as limited partners to a Crescat hedge fund. For natural persons, investors must meet SEC requirements including minimum annual income or net worth thresholds. Crescat's hedge funds are being offered in reliance on an exemption from the registration requirements of the Securities Act of 1933 and are not required to comply with specific disclosure requirements that apply to registration under the Securities Act. The SEC has not passed upon the merits of or given its approval to Crescat's hedge funds, the terms of the offering, or the accuracy or completeness of any offering materials. A registration statement has not been filed for any Crescat hedge fund with the SEC. Limited partner interests in the Crescat hedge funds are subject to legal restrictions on transfer and resale. Investors should not assume they will be able to resell their securities. Investing in securities involves risk. Investors should be able to bear the loss of their investment. Investments in Crescat's hedge funds are not subject to the protections of the Investment Company Act of 1940. Performance data is subject to revision following each monthly reconciliation and annual audit. Current performance may be lower or higher than the performance data presented. The performance of Crescat's hedge funds may not be directly comparable to the performance of other private or registered funds. Hedge funds may involve complex tax strategies and there may be delays in distribution tax information to investors.
Investors may obtain the most current performance data, private offering memoranda for a Crescat's hedge funds, and information on Crescat's SMA strategies, including Form ADV Part II, by contacting Linda Smith at (303) 271-9997 or by sending a request via email to lsmith@crescat.net. See the private offering memorandum for each Crescat hedge fund for complete information and risk factors.