The Tech Bust. The Global Financial Crisis. The Crescat Long/Short Hedge Fund strongly outperformed during two of the worst bear markets in history. Investors in the Long/Short Fund value the fund's strong risk-adjusted returns, achieved with a focus on long and short equities.
---
Net Returns through 5/31/2017

---
Risk-Adjusted Return Measures Since Inception

---
Growth of Initial $1,000,000

---
Peer Group Analysis from eVestment, inception through December, 2015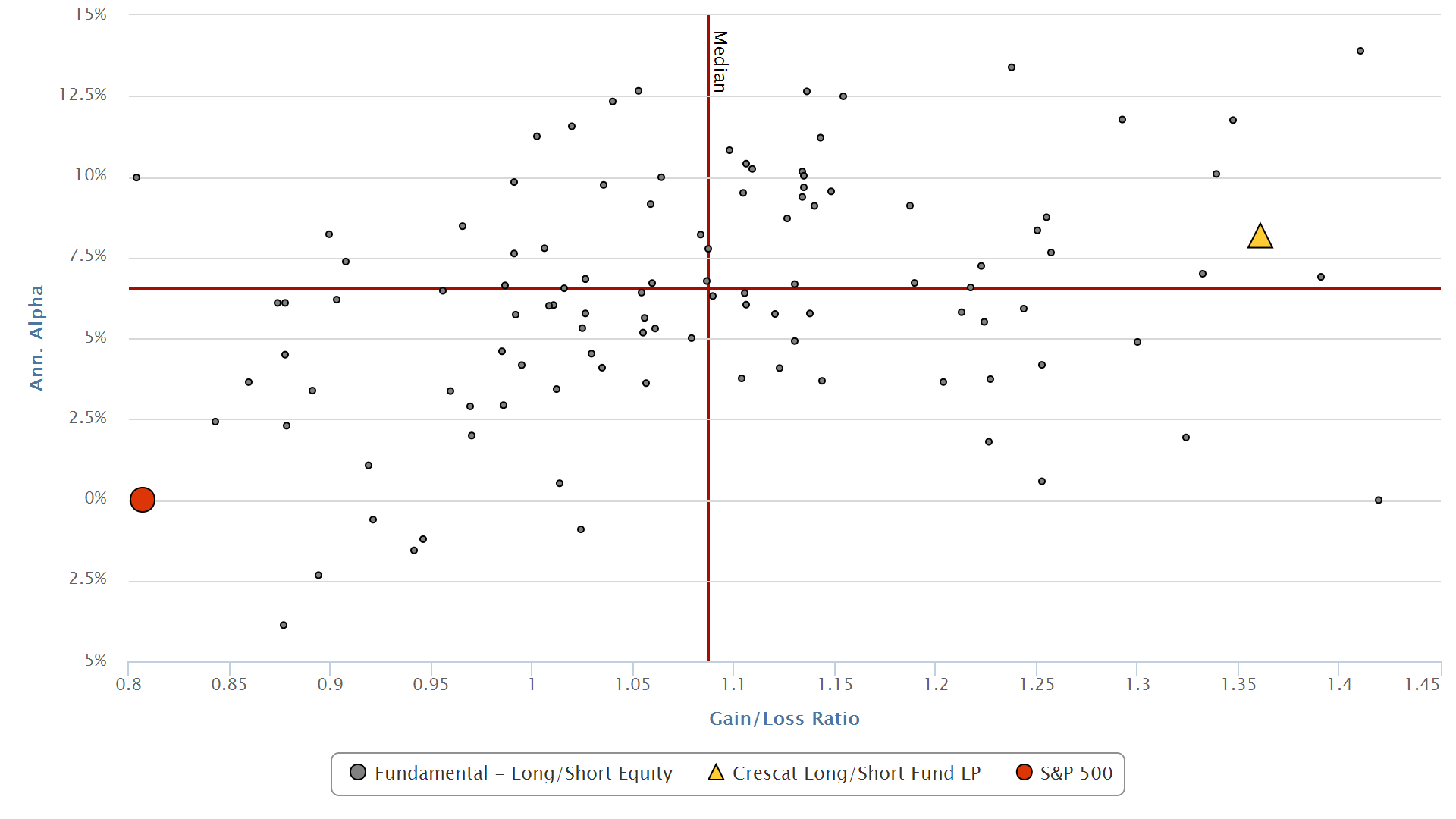 ---
Returns, Risk-Adjusted Performance Measures, and Growth of $1,000,000, and Peer Group Analysis are presented net of management fees. 5% outliers in Peer Group Analysis have been eliminated.
---
Crescat Capital LLC manages hedge funds and separate accounts through its wholly owned subsidiary, Crescat Portfolio Management LLC, an investment adviser registered with the U.S. Securities and Exchange Commission. Registration as an investment adviser does not imply a certain level of skill or training.
Crescat Portfolio Management claims compliance with Global Investment Performance Standards (GIPS®). Prospective clients can obtain a compliant presentation and the firm's list of composite descriptions by contacting Crescat by phone at (303) 271-9997, or by visiting our website at www.crescat.net/resources/due-diligence/. Returns are presented net of management fees and performance fees. The currency used to express performance is U.S. dollars.
Strategy and Composite Description
The Crescat Long/Short Hedge Fund Composite includes all accounts that are managed according to the firm's long/short equity hedge fund strategy over which the manager has full discretion. This hedge fund strategy strives to grow and protect client capital through an actively-managed, prudently-diversified, long-biased, long/short equity portfolio comprised of liquid large- and mid-cap global equities. The manager follows a multi-disciplinary, value-based investment process with risk controls. The strategy blends top-down, macroeconomic analysis with bottom-up, fundamental valuation. The investment team's macroeconomic analysis includes the valuation of currencies, commodities, industries, and markets in order to develop global macroeconomic investment themes that are expressed in the strategy through long and short equity positions. The manager may trade and invest in individual equities as well as exchange-traded funds and related options. The strategy employs a moderate amount of leverage within constraints based on the investment team's assessment of market risks and opportunities. The strategy's bottom-up approach to equity valuation starts with a proprietary, fundamental, quantitative model that was originally built in 1997 by the firm's Chief Investment Officer, Kevin C. Smith, CFA. The model applies an innovative and robust discounted-free-cash-flow methodology to produce daily valuations of the top 2,000 largest and most-liquid global equities that trade on a U.S. exchange. The fundamental quant model has been consistently refined and applied to managing this strategy since its inception. The investment team performs additional qualitative analysis to validate buy and sell signals generated by the model and to integrate model-driven ideas with the firm's macro themes. The goal of the strategy is to generate high risk-adjusted returns as measured by top-decile Alpha, Sortino Ratio, Omega Ratio, and Gain-Loss Ratio that are in the top 10% of all global hedge fund managers over the long term whose strategy is predominantly long/short equity.
Benchmark Descriptions
The S&P 500 Index is perhaps the most commonly followed stock market index. It is considered representative of the US stock market at large. It is a market-cap-weighted index of the 500 largest and most liquid companies listed on the NYSE and NASDAQ exchanges. While the companies are U.S. based, most of them have broad global operations. Therefore, the index is representative of the broad global economy. It is a suitable benchmark for the Crescat Long/Short Hedge Fund Composite which has also traded extensively in large, highly-liquid global equities through U.S.-listed securities.
The HFRX Equity Hedge Index represents an investable index of hedge funds that trade both long and short in global equity securities. Managers of funds in the index employ a wide variety of investment processes. They may be broadly diversified or narrowly focused on specific sectors and can range broadly in terms of levels of net exposure, leverage employed, holding period, concentrations of market capitalizations and valuation ranges of typical portfolios. It is a suitable benchmark for Crescat Long/Short Fund because it has also been predominantly composed of long and short global equities since inception.
---
Private Securities Offering Legend For Crescat Global Macro Fund LP and Crescat Long/Short Fund LP (Hereafter "Crescat fund or Crescat funds")
Only accredited investors and qualified clients will be admitted as limited partners to a Crescat fund. For natural persons, investors must meet SEC requirements including minimum annual income or net worth thresholds. Crescat funds are being offered in reliance on an exemption from the registration requirements of the Securities Act of 1933 and are not required to comply with specific disclosure requirements that apply to registration under the Securities Act. The SEC has not passed upon the merits of or given its approval to the Crescat funds, the terms of the offering, or the accuracy or completeness of any offering materials. A registration statement has not been filed for any Crescat fund with the SEC. Limited partner interests in the Crescat funds are subject to legal restrictions on transfer and resale. Investors should not assume they will be able to resell their securities. Investing in securities involves risk. Investors should be able to bear the loss of their investment. Investments in the Crescat funds are not subject to the protections of the Investment Company Act of 1940. Performance data represents past performance, and past performance does not guarantee future results. Performance data is subject to revision following each monthly reconciliation and annual audit. Current performance may be lower or higher than the performance data presented. Crescat is not required by law to follow any standard methodology when calculating and representing performance data. The performance of Crescat funds may not be directly comparable to the performance of other private or registered funds. Investors may obtain the most current performance data and private offering memorandum for a Crescat fund by contacting Linda Smith at (303) 271-9997 or by sending a request via email to lsmith@crescat.net. See the private offering memorandum for each Crescat fund for complete information and risk factors.